Adding a rim to a cocktail adds a whole new dimension to flavor and texture to your cocktails. a good cocktail rim allows a cocktail to taste a little bit different with every sip and allows the guest a more interactive experience with their drink.
A lot of bartenders I see use a simple commercial rimmer for the sake of speed. Please don't use one of those hinged three-tiered monstrosities. The sponge they utilize to moisten the rim of the glass is rarely cleaned often enough and accumulates all kinds of bacterial growth. Also, this wets the inside of the glass as well as the outside. this is then dunked into sugar or salt which almost immediately gets mixed into the drink. and an extra half teaspoon of salt immediately being mixed into any cocktail will throw off the balance. A cool example of when you actually should have a rim on the inside is the Spanish Coffee where the sugar on the inside is actually burnt and turned into caramel which mixed into the hot cocktail.
It is typically far more preferable to moisten the outside of the glass with a citrus wedge. Typically whatever citrus is used in the cocktail makes the most sense, but it's not a hard rule. A beautiful rim of salt around a margarita with a lime wedge is classic. I often use an atomizer to wet the glass. A mister filled with honey syrup was used in a few cocktails I've menued over the years. You also don't have to wet the entire rim. you can do just half or just a little decorative strip.
Fill a bowl or dish with your powdered rim of choice. Always add more than you think you'll need to guarantee a consistent coating overall. Dunk your moistened glass into the bowl and give it a little twist in the powder. Pull out the glass and give it a little tap to break off any heavier clumps. Fill with your cocktail and you're good to go.
It's also not unheard of to coat the rim of your glass with melted chocolate and allow it to cool into a tasty band. a lot of dessert drinks utilize chocolate. I've seen smores cocktails rimmed with chocolate syrup and crushed graham cracker dust. I've seen gold dust, gingersnap cookies, bacon salt with old bay seasoning for a Bloody Mary, and more.
Aside from the classic sugar and salt, some of my favorite rims are:
Spicy cinnamon sugar: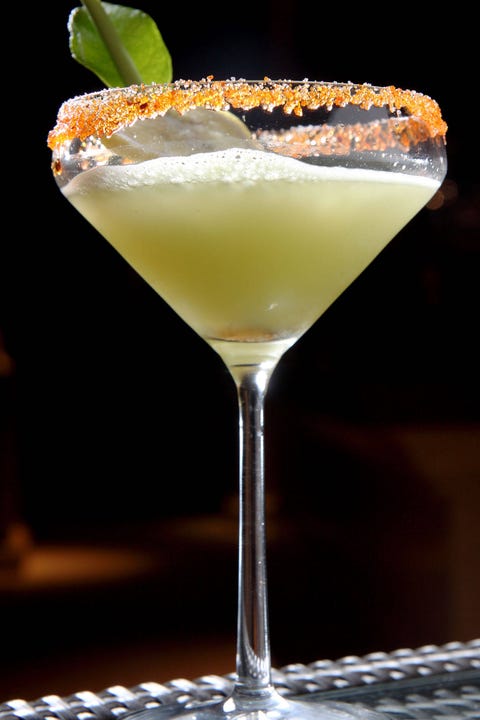 12 parts Sugar: 2 parts Ground Cinnamon: 1 part Cayenne Powder. Mix around in a bowl and you're good.
Smoked Citrus Sugar:
1 part bruleed citrus peels (finely minced), 2 parts sugar. Take any assortment of citrus fruits and peel them. Take a brulee torch to the peels until they dry and start to curl. Chop up the peels into a fine mince, and add your sugar. Muddle this around a bit to get out all the oil you can.
Garam Masala Sugar:
4 parts Sugar: 1 part Garam Masala (mix of cumin, coriander, cardamom, black pepper, cinnamon, cloves, nutmeg).
Green tea cocktail rim:
Matcha green tea, sugar, citric acid powder.
"You have no idea how hard it was to not make sex jokes in this post."
- Me