There are three stories. The main floor is where you're most at home and most welcome. The upstairs has an O-shaped bar and a medium sized dance floor plus some booths along the wall. The basement is a simple banquet facility reserved for special events. This first floor is what has the real charm. It has a fishhook-shaped bar and is laid out in a traditional pub style with a number of little nooks so that it doesn't get too loud and each nook can hold its own conversation. The area is modeled from an old apothecary. There are drawers with labels like "Aspirin" and "Opium". There are cases made from old glass with antiques inside. Gaelic phrases are painted across the trim pieces. The natural wood and lacquer bring that sense of warmth that needs to be found in a pub. The second floor isn't always open but features an O shaped bar, several booths and standing tables as well as a dance floor area.
Service
Here, people are Irish. I don't mean that to be racist of nationalist, but they meet quite a few of the stereotypes. The bartenders are a bit surly and have no problem correcting you when you're wrong. Ask a stupid question and they'll look at you like you're stupid. That said, they're not mean, quite the opposite. Any request will be handled punctually and properly. There's a level of sarcastic charm that comes with a properly Irish feeling pub.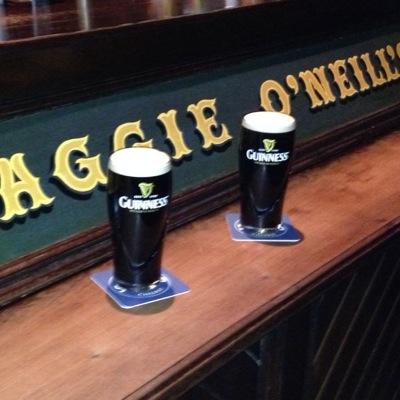 Drink
This is really a proper local pub. Its main feature is the beer menu but does feature the basic amenities of a bar. Your staple call brands and prepackaged mixers are available. They switch out half the draft system every month or so. These arguably aren't the highest of craft beer brands, but it's nice to get Guinness Blonde on draft or a flight of Goose Island.
This is a proper Irish pub, in my opinion. There are clearly some regional and american influences, but you still find some classic dishes done right here. The Guinness wings are award winning. There are the Philadelphia / Delco staples of pretzel bites, buffalo chicken egg rolls, and cheesesteak. You could also get potato soup, beef stew, shepherd's pie, banger's and mash, and even a traditional Irish breakfast. A few options are a bit unexpected but delicious all the same, such as the Thai shrimp or Tuscan Flatbread. When in doubt, go with a meal you know you'll like, and you're sure to love it. The hot roast beef sandwich is one of the best I've had. And this is one of few restaurants I've been to in the area that knows what you mean when you say you want your burger medium rare and is able to deliver that consistently. It's a large menu where you're sure to find something you'll like, and I've yet to be disappointed.
Value
I actually find this place a very good deal, especially for the portion sizes. The salads and desserts are enough to share. A hungry man going in for a meal will not leave dissatisfied. I've only found a few items that I ate and was still left somewhat hungry, and in fairness those were appetizers. The drinks are cheaply prices with some of the craft beers going up to fairly priced. You will not leave hear feeling swindled and every so often you will be actively surprised how innexpensive something so good was.
Overall
Overall I give this bar an 8/10. I was very tempted to give it a 9/10 though. This was one of the first bars I came to when I moved to Pennsylvania. My roommate and I were looking up bars in the area and their reviews. We stumbled across Maggie's review: "Maggie's is a great spot. Comfortable atmosphere, new selection of craft beers on tap, and everyone gets laid." It's hard to get better than that. The bar selection could be improved and the table service could use a little polish, but you'll almost always have a good time in here. The food leaves everyone happy. The company is good, and rarely too crowded. There's live music every once in a while. Go, sit, and enjoy yourself here. It really is a place to relax.
May you always have love in your hearts and beer in your belly.